Choose your path in Road Map
When you start a new trial event you will be asked which path you wish to follow: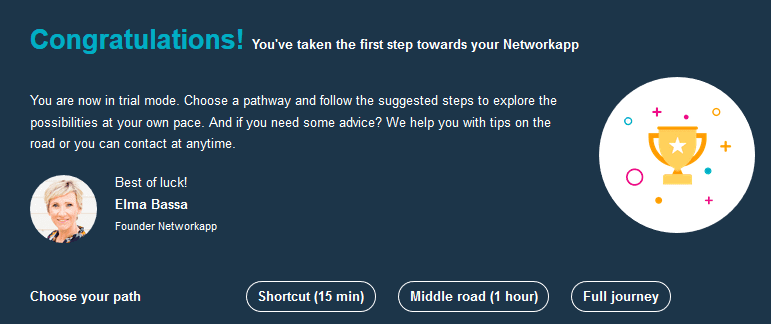 The Shortcut

The shortcut is a short path. It takes about 15 minutes to complete. You could follow this path when you want to implement the essential features of the app in a short time. You can do this, for example, because you want to show your client the possibilities of Networkapp. Or because you want to get to know the dashboard quickly.
The Middle Road
If you have got more time and want to master the dashboard, take the Middle Road. Heb je wat meer tijd om handen en wil je je het dashboard eigen maken, neem dan de Middle Road. This path will take about an hour, leading you through a more extensive package of features. Try out more features together with colleagues.

The Full Journey
Convinced to fully use the Networkapp and ready to go? Choose the Full Journey. You'll get to know all the ins and outs of the dashboard and app. At the end of the road, your complete app is ready.
On your way…
Depending on the road you have chosen there will be an overview of steps on the Road map page. This way you will have a pointer that you can follow to guide you through different features the app has to offer. When you set up a feature you can see it in the overview.
You can change direction at any time while you are setting up a trial version. For example, if you start with a short cut, you can always continue on the Middle Road or Full Journey.